5 Best Universities in Dubai
Dubai is well-known as the shopper's paradise, with futuristic buildings and a sparkling entertainment scene. It prides itself on having the highest skyline, the Burj Khalifa tower, 830 meters tall. Dubai is heavily populated because of its rapidly expanding economy.  
If you wish to study in Dubai, you have more than 65 colleges and universities to choose from. The education system is similar to that of the UAE, where many public universities teach classes in Arabic, and students who are non-Arab speaking must first go through the Arabic language.
However, things have changed a bit as some universities are now offering English classes to international students.   
The government ministry connected to higher education in Dubai is the Ministry of Higher Education and Scientific Research (MOHESR). The licenses and accredited degree programs are issued by the Commission of Academic Accreditation (CAA). Quality assurance of education in Dubai is conducted by the Knowledge and Human Development Authority (KHDA).
The semesters in most universities in Dubai commence in September. This article will give you more insights into the 5 best universities in Dubai. 
5 Best Universities in Dubai
American University in Dubai
Enrollment: Qualification for enrollment includes entrance exams and students' previous academic performance and scores. Any student can apply for admission from anywhere in the world. The academic year has two semesters; September to December and January to April. There are 2 summer sessions from May to June and July to August.
Study Area: Graduate and undergraduate programs through nine Colleges: Business and Economics; Education; Engineering; Food and Agriculture; Humanities and Social Sciences; IT; Law; Medicine and Health Sciences; and Science.
Price: AED 2,300 – AED 330,000
Location: Sheikh Zayed Rd – Al Sufouh – Al Sufouh 2 – Dubai – United Arab Emirates
Student services: The Non-National Students Office (NNSO) provides info and curriculums to overseas students. They also provide information about the college and the people and help students with all questions about visa rules and guidelines, financial problems, health insurance, and university rules.   
Accommodation: AUD offers accommodation within the institution. The graduate students and students not on scholarships are required to pay for accommodation. Students are required to pay a security deposit of AED 1000 that is refundable that is paid with the initial accommodation payment. 
Library services: The institution has two libraries; the main library and the medical library. 
Medical Services: The institution offers healthcare services to all AUD students. As soon as a student joins, the health insurance coverage is activated until the end of the academic year.
Career: AUD has partnered with companies, so the demand for graduates from AUD is very high.  
 "Definitely Great. All the staff who work here are friendly and helpful. Security is always quick to come if you lock yourselves out and most faults are dealt with quickly (although this is not always the case, unfortunately). There are two common rooms, and they are in good condition. The office can accept deliveries for you. The location is great and central."
Zayed University 
Enrollment: Qualification for enrollment include entrance exams and students' previous academic performance and scores. Any student can apply for admission from anywhere in the world. 
Study Area: Bachelor's degrees and master's degrees in different areas of learning.
Price: AED 84,000 – AED 128,000
Location: Al Ruwayyah, near Academic City, Dubai 
Student services: Education advising, internship organization, student success workshops, and recommendations. 
Accommodation: Generally, this will be situated in multistoried apartment buildings. Since there is a shortage of accommodation in Dubai, there might be delays in being allocated an apartment. The options for accommodations are few, and therefore a student will be allocated accommodation when they arrive, subject to the availability of Zayed University units.    
Library services: There is a library provided at ZU.
Medical Services: There is a healthcare hospital on the two campuses to offer students medical services.   
Career: The institution provides support to alumni students in making life-changing career decisions. 
 "Zayed University- love the spirit, the people, and the awesome new campus! I'm proud to have had the opportunity to study there and meet some amazing professors. Did my Masters's last year and now trying to find a way of going back again, just miss the place so much. Truly an inspiring institution, thanks to its leaders and their continuous support!"
Middlesex University Dubai
Enrollment: Below is a list of requirements that a student must submit with their application:
Two current passport-size photos.
Copy of their passport and UAE residency visa (if available).
Copies of their secondary school records, including a certificate of completion and a statement of their grades/marks.
Two academic references on the official letterhead of school/college
A personal statement of 200 words or more.
Evidence of satisfying the English Language requirements, where applicable.
For advanced entry applicants/transfer students: students seeking credits for the previous study at a university/post-secondary level will need to provide documents (e.g., official transcripts, certificates, etc.) showing the subjects completed and the marks/grades achieved, along with detailed information on the content of the course and an explanation of the grading system.
Study Area: Business, law, media, science and technology, art and design, health and education programs.
Price: AED 43,400 – AED 55,700
Location: Block 16, Knowledge Village
Student services: 
Computer laboratories
Expert labs, for instance, robotics, fashion design, and graphic design labs.
Study group rooms.
Library
One-on-one student learning support. 
Internships and job placements
Recreation centers, e.g., student lounge, relaxation room, gaming room, music room, dance studio.
Accommodation:    
We aim to offer our students reasonably priced, comfortable student housing and have therefore partnered with Myriad. Our students will enjoy: 
Fully equipped ensuite rooms with single and twin choices
Monthly payments
Security and staff on-premises for support 24 hours, 7 days a week. 
Well-being and security processes are in place for continuing guard and prevention. 
No charge shuttle bus service to and from The Myriad to the college.
Weekly cleaning.
Laundry rooms
Prayer rooms
High internet connection (Wi-Fi)
Car parks 
Gymnasium, aerobics, basketball court, jogging trail.
Rooftop swimming pool
Access to eateries, stores, and services.
Medical Services: 
Middlesex University Dubai provides medical insurance as part of their student visa. It can be used at a number of medical care facilities within Dubai and the UAE.    
Career: The University offers high-ranking, high-profile positions and professional experience with major companies. They also have a Careers and Employability Service that guides a person on writing CVs, individual support on job applications, vacancies accessibility, and program-specific career days. 
"I believe Middlesex University Dubai is filled with varied opportunities for everyone, be it academics, extracurricular or even employability. The campus is always thriving with numerous workshops, guest lectures, and other fun events to keep one engaged. The faculty and support staff are fully committed and continuously looking for ways for improvement. I found great assistance even in terms of employability. Attending sessions organized by the university's career department helped me improve various aspects of a job hunt and network with professionals, getting me better prepared for the future."
Canadian University Of Dubai (CUD)
Enrollment: The academic programs at CUD are grounded on the Canadian Curriculum and education philosophies while valuing the beliefs and values of the UAE.
General Documents Required
Complete an application online at the online application
Certified copy of Secondary School Certificate or its equal.
Copy of student passport (valid).
Copy of residence visa for non-local students (valid).
A Copy of Emirates ID
Copy of UAE National Family Registry for local students.
A valid English Language Proficiency Certificate (TOEFL, IELTS, or EmSAT)
Proof of successful completion of a letter of exemption of military service from the National & Reserve Service Authority (UAE nationals, male only)
Recent passport-size colored photo.
Applications from holders of High School Certificates are processed after paying a non-refundable fee of 525 AED.
Added Prerequisites for Students who have Foreign Certificates
Manuscript showing that the student finished 12 years of school.
Validated copy of grades 10,11, 12 credentials and Graduation credential (Diploma).
Corresponding certificate from the Ministry of Education in the UAE.
Further Prerequisites for Visiting Students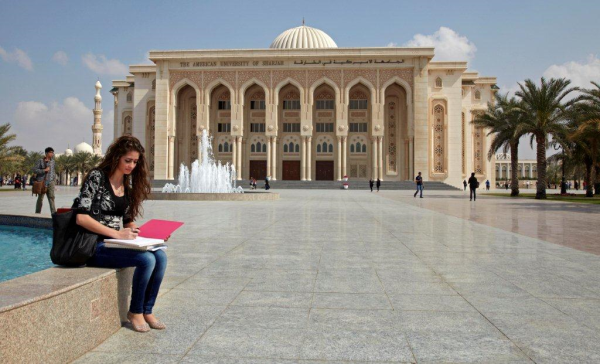 Authorization letter from student's university back at home with a record of classes permitted to be taken at CUD.
Study Area: 
School of Architecture & Design
School of Business Administration
The School of Communication & Media Studies
School of Engineering, Applied Science & Technology
School of Liberal Arts & Sciences
Graduate Studies
Price: AED 61,000 – AED 66,150
Location: 1st Interchange, Sheikh Zayed Road
Accommodation: CUD offers clean, safe, and inexpensive housing options to students. A resident officer is in charge of the accommodation units. Private and family accommodations are not offered. 
Medical Services: CUD has qualified, certified nurses present to attend to minor acute illnesses and injuries and offer first aid. They focus on disease prevention.    
Career: The staff at CUD connects the academic world and the workplace. We organize career workshops and study days to help students in choosing a career and prepare them for the job market. 
 "Was considering many universities, but definitely this is my choice! Thanks to the professional and knowledgeable people I have met."
Heriot-Watt University Dubai
Enrollment: The University conducts personal evaluation – knowledge and talents are considered together with formal experiences. They check for signs of motivation, knowledge of the objectives of the planned programs of education, and recommendations.  
Study Area: Degree entry program, Undergraduate, Postgraduate, Research
Price: AED 44,000 – AED 136,500
Location: Academic City
Student services: 
Accommodation: Heriot-Watt offers a variety of accommodation choices to suit everyone's needs. If you are looking for an elegant hotel, an independent community, or a more standard student dwelling, students will be able to live and read in both safety and cosiness. Other amenities will be dependent on the accommodation choice, such as well-equipped kitchens, eateries, Wi-Fi, and cleaning services. A swimming pool, gymnasiums, and relaxation rooms are also available.  
Library services: There are specific classrooms, computer rooms, library, and counselling services. 
Career: They provide career guidance and work with companies and other educational institutions to support our students by enhancing the skills they need to make the most of their career readiness. 
"Overall, I have been pleased with the effort my university put in to make the best of a bad year. I feel as though my learning has most definitely been compromised through online learning, but this is not the fault of the university or lecturers, as they did as much as they could. Friends, I think the amount we paid for this education (£9250) is extortionate and the fact the students have not been reimbursed for at least a portion of this, is an absolute joke but once again this may not be the fault of the university. I think this, like many other things, boils down to our "government"."
All the above-mentioned best universities in Dubai have a common theme: helping students during their university years, finding their career paths, and joining the job market.
A quote by Joan Young, an expert essay writer at Advanced Writers, says, "Educational institutions can influence students when deciding the field of study they wish to pursue. On the one hand, there are reasons to support this idea because educational institutions have years of experience and can accurately determine a student's abilities to or not to pursue a specific course.
Further, the scientific approach to decision-making via a proven assessment procedure is perfect when implemented to benefit the learner. On the other hand, these institutions may discourage learners from taking up courses or subjects they are passionate about and which they can succeed in. Success in a particular is determined by an individual's desires and passion, and not what others say or think about his or her abilities."
5 Best Universities in Dubai